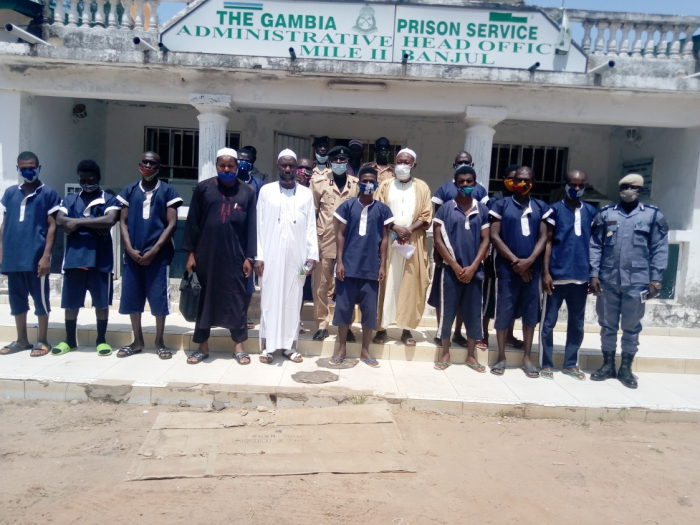 They were convicted of various crimes ranging from stealing, threatening violence, conspiracy to obtain money by false pretence among others. The 12 prisoners comprise 10 Gambians and two Senegalese.
The GSIC also gave the released prisoners transport refunds to return to their various homes, within and outside the country with a view to reuniting with their families and loved ones again. Some of these prisoners were convicted between one month to two years in prison.
Speaking at a ceremony held at Mile 2 Central Prison in Banjul, Imam Abdoulie Fatty, commended the GSIC and other donors for coming to the aid of the prisoners in paying their respective fines, while describing their gesture as truly Islamic and adhering to the teachings of the Holy Qur'an.
He urged the ex-convicts to become good ambassadors and desist from anything that could lead them into problem in the future.
"I want you to totally distance yourself from problems for whatever the circumstances it could be. Your being in prison is something that is destined by Allah and it must happen. GSIC coming to your aid and paying your fines are also something that is destined by Allah. Therefore, our objectives are if you leave the prison, you integrate yourself in the society and become an agent of change."
He added: "There are lots of people currently at the riverside doing amazing good jobs and others are in town doing good jobs for living. In fact, others are here especially women selling "mbahal" and are earning a good living. We have masons in town who are earning D200 to more than D300 a day. So, it's important if you go back you do something that's meaningful."
Gambians, he added, should also know that the prison authorities are doing a good job. "If we are also talking about the poor prison condition, we should also ask ourselves what we can do to help rebuild the prison. Therefore, as Gambians, we should also come together and contribute some money to help rebuild the prison."
Gambia Prison Services (GPS) director general, Ansumana Manneh, thanked GSIC for the timely gesture, adding that it clearly manifests the teachings of the Holy Qur'an. The intervention of GSIC in paying the fines of the prisoners, he said, came when Imam Fatty visited a mosque in the prison which he (Fatty) is helping to rehabilitate.
"When I talked to him about the issues he promised to relay the message to GSIC. It's important that others emulate GSIC and complement the efforts of the government and the prison authorities."
Reforms, he added are very crucial in the prison department, arguing that religion also plays an important role in reforming inmates. "Many people come to the prison at a time they can't even," said Alhamdulillah. I can tell you that others even memorised the Holy Qur'an and are very important people in the society."
"I want you to go back to your homes and become an important pillar within the society. I don't want to see your faces here in prison again as a result of crimes. This is your first time and I am quite optimistic that you will all change for good. So, don't let me and the GSIC down."
Sheikh Ebrima Jatta, on behalf of the GSIC president, said Islam is an important pillar in anything one does in life; hence "it's important that we support each other even in times of difficulties."
"Many important people in the country were either convicted or detained in police cells. However, it doesn't mean that they are bad people. It's something that was destined by Allah and it must happen. What is important now is that you all change for good and make the mosques your homes."