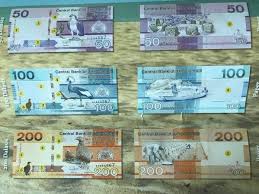 The suspects, Buba Nyangarra, a Senegalese national and Amadou Jallow, a Gambian national are currently detained by police as investigation into the matter deepens. Police sources say the duo have been charged with being in possession with fake money and are expected to appear in court soon.
At the time of going to press, the police still couldn't establish where the suspect got those fake currencies.
Lamin Njie, the spokesperson of The Gambia Police Force (GPF), who confirmed the development to The Point said currently there are more than D40, 000 that is believed to be in circulation in the market and is yet to be retrieved by the police.
"I can confirm that the police have recovered D116, 000 from the suspects and all in 200 notes. The total amount of the fake currencies, according to our own investigation, is D150, 000. So, there is D44, 000 which we believe is either in circulation or somewhere, thus we need the public to cooperate with the police in recovering the remaining suspected fake monies."
"Whoever got information about such kind of suspected monies can report the matter to the nearest police stations. Secondly, anybody who by chance has these suspected fake notes must report to the nearest police station. Don't have it and start using it and when you get arrested you begin to say that you never knew it's a fake currency."
Quizzed by the reporter as to how the suspects operate, PRO Njie added: "The suspects used the fake monies and went to the market and bought retail commodities. They would take one two 100 fake notes and buy something that is worth D10 or D15 or D20. Therefore, the trader or the shopkeeper would return them a huge amount of authentic notes as change."
"It's also important to note that people in the market must be vigilant especially when people give them money. They need to be observing so much in ensuring that the money they receive from buyers are not fake bank notes. Business people who also got contact with these fake monies must also report the matter to the police as soon as possible."   
The suspects, Njie went on, also used to go to the foreign exchange bureau to change these monies. "They will come less, say D20, 000 and say they want to change it to Euro. So, if you give them the authentic Euro you will only be having D20, 000 fake currencies."