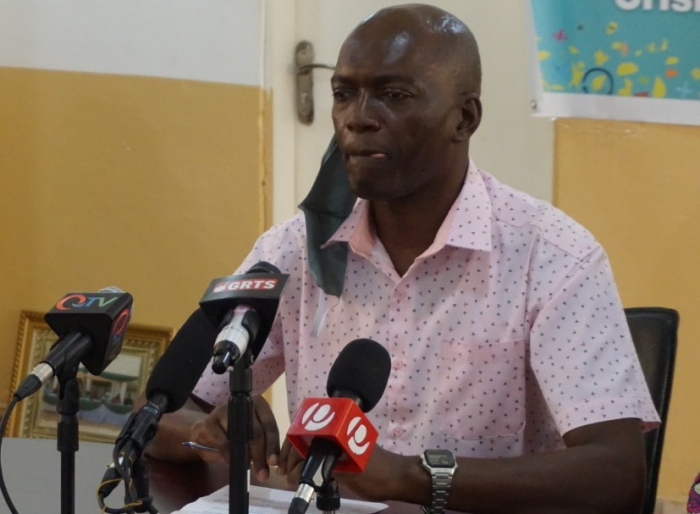 This he said emanates from 'no indication of government's seriousness to commit funds' to ensure when schools are declared open they could be done safely as required.
Mr. Sowe made these remarks last Saturday at the GTU Secretariat during the commemoration of Word Teachers' Day.
The theme for this year's celebration is 'Teachers: Leading in Crisis, Reimagining the Future'.
He highlighted that they need government commitment to ensure schools are safely reopened now that all necessary tools are available in terms of strategies and plans.
He noted that the union is deeply disturbed with the seemingly inaction on the side of central government for failing to show any sign of seriousness to provide funding for education.
He described government interventions in terms of subsidies and stimulus packages as good initiatives. However, DGS Sowe said what is disturbing is the fact that education has never been part of government's priority during covid-19.
He called on President Borrow and the National Assembly to instruct/direct the Ministry of Finance to provide necessary funds for education to avert the crisis in education.
He also said that given that over 50 percent of our schools are privately owned and apparently running out of business, government must create an education subsidy to enable the private schools pay their teachers; most of whom have been seriously affected.
He pointed out the numerous engagements, activities, strategies and plans put in place by the union since the proclamation for the closure of schools in The Gambia.
'GTU has been and continue to engage government as well as execute its core mandate during this crisis,' he further said.
Baboucarr O. Joof, general manager, Gambia Teachers' Union Cooperative Credit Union, said schools must be safe for their teachers to return.
He added that for schools to be safe, teachers on government payroll will continue to be maintained and paid as agreed; ensure the 56 percent of schools that educate Gambian children (private schools) are given support to ensure their sustainability because if private schools crash; half of school going children in the country will stay out of school.