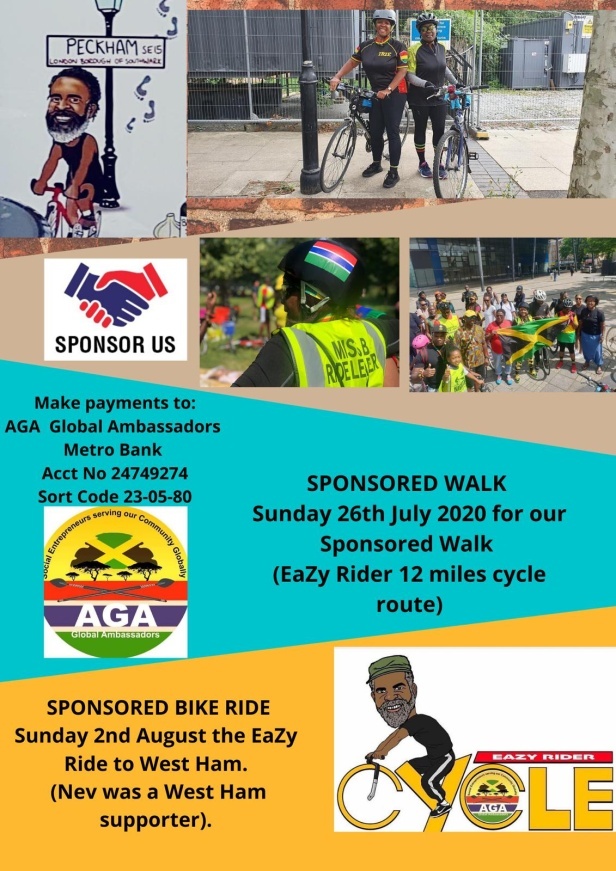 AGA Global Ambassadors UK/Gambia was establishment in 2014. As a group of community entrepreneurs volunteers, they began by identifying the opportunity to make a significant difference globally.
However, in November 2018 they loss their loyal volunteer brother Nev suddenly. Nev was a keen cyclist and his racer bike was his daily transport.   In June 2019 the charitable trust organised a EaZy Rider fundraiser in his memory which was a great success and has now become an annual event to honour his legacy.
Funds raised will support AGA Global Ambassadors UK/Gambia with shipping costs, enabling them to get the much needed medical equipment to The Gambia.
The organisation's Health Initiative drive has significantly benefited infection control as preventative measure during the pandemic.
Nev, a West Ham supporter was committed with others as a shared human resource to AGA's vision. Due to the current measures in place this year, only committee members will mark the annual EaZy Rider event.
Meanwhile, the UK/Gambia charitable trust during the Eidul-Fitr presented 16 bags of rice, 16 gallons of 5 litres cooking oil and 8 bags of onion to Gambian families in observance of the Muslim feast of Eidul Fitr, marking the end of the month-long dawn-to-sunset fasting of Ramadan.
It also supported five Gambian families with one hundred and fifty pound sterling at the commencement of the Muslim month of Ramadan.
The trust also donated 12 bags of 25kg rice to families in various Gambian communities who are currently not able to earn fund to provide food for their families during the isolation period of covid-19 pandemic.
The organisation also donated buckets and sanitary materials to Mosques, hospitals and other places across the country in a bid to manage and contain the spread of coronavirus in the country.
AGA Global Ambassadors UK/Gambia is a non- profit group based in United Kingdom who share the passion to help disadvantaged communities across Africa, particularly in The Gambia. Over the years, they have supported Gambia's education and health sectors as well as the less privileged.