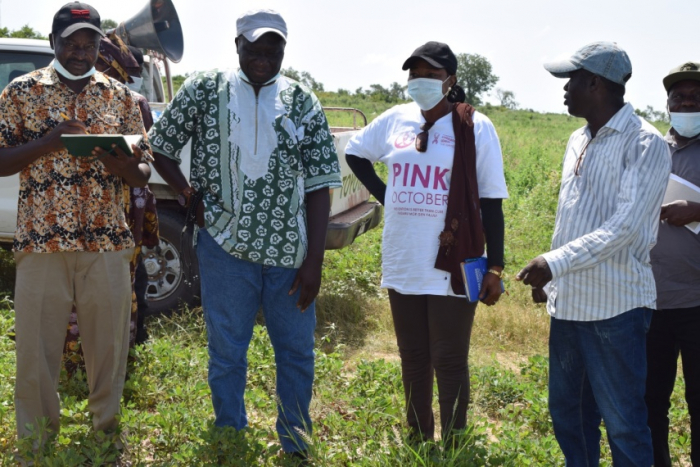 Giving an overview of the whole farming season Hon. Amie Fabureh said: "I am indeed impressed with what I have seen around the country. As a ministry, our joy is to see farmers benefit from their toils." The minister was accompanied by deputy permanent secretary, Mr. Musa M. Humma, director general Department of Agriculture Dr. Saikou E. Sanyang, director general, National Agricultural Research Institute (NARI), Dr. Demba Jallow, director general, National Seed Secretariat Mr. Morro Manga, coordinator, Central Project Coordinating Unit (CPCU), Mr. AbdoulieTouray and other senior officials of the Agric Ministry.
Farmers in various regions thanked the minister for the support given to them by the Ministry of agriculture particularly the COVID-19 support funds from International Food for Agricultural Development (IFAD), through the NEMA project. All farmers have agreed that the COVID-19 fund was indeed helpful to them. The fund was used to provide seeds and fertilisers and plowing services. Farmers in various regions further asked the minister to support them more with farming equipment like tractors, power tillers and storage facilities.
Responding to farmers request for support, Minister Fabureh reminded the farmers that the Ministry of Agriculture under her leadership would never relent in supporting the farming community. She said just before the rains equipment was distributed to them but her ministry would endeavour to give more support to the farmers.
The Agric minister reminded farmers that His Excellency President Adama Barrow is aware of the importance of agriculture in national development. And that is the reason the sector is very dear to the president's heart.
The minister assured the farmers that there are fertilisers all over the country for vegetable gardens and dry season rice production across the country. She said this year the government would announce the commencement of groundnuts trade season very early, the price would be higher than that of last year and that there would not be credit buying.
Minister Fabureh also visited a groundnut farm belonging to the governor of Central River Region Abba Sanyang. She thus called on other civil servants in the country to engage in farming, pointing out that farming is a profession that has a potential to develop the nation.