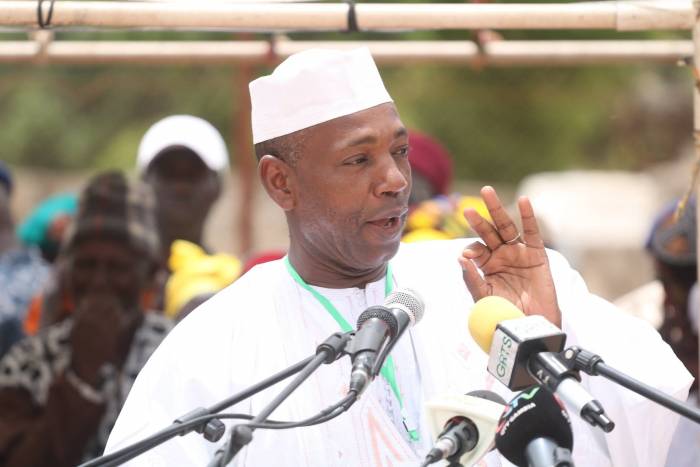 "If you are shouting here without voters' cards, that's nothing. Some of your people are currently outside the country, then if the voter registration starts, it's important that you all come back home and look for voters' cards," Mr. Bah said in a meeting held at Japineh as President Adama Barrow continued his Meet the People's Tour.
"I want to make it clear to you the people of Kabada that if you see a person going to fight, then the individual has weapons and bullets. If you have a gun that doesn't have bullets then you will be shot to death."
"I want to urge you the people of Kabada to come back and acquire voters' cards and vote for any person you wish to vote for."
For the past 50 years, he said, not even a kilometer of road has not been constructed in Kabada, while citing the distance from Sibito Madina Angaleh to Coastal Road. 
"It is like this people are not in The Gambia or they've not been paying taxes all these years. I can assure you that such kind of treatment is over in Barrow's government. You will know that you are Gambians and that you were born in the country and your people also have a stake in the country."
President Barrow's development initiatives, he stated, are not discriminatory.
"If those in the US have the right to come to the country and look for voters' cards, then I see no reason why those living in Guinea Bissau, Guinea Conakry, Mali and Senegal from acquiring voters' cards if they have the means to come to the country and acquire the voters' cards during the registration exercise."
He pointed out that Diaspora doesn't necessarily mean Spain, UK and other places, but the entire world. 
As the country prepares for massive voter registrations exercise in January 2021 ahead of the much anticipated 2021 Presidential Election, Tourism Minister Bah also said that no Gambian with authentic documents would be denied voters' card.
"I want to make something clear here. Diaspora are people that are currently outside the country, thus it doesn't matter the country the individual is living. As far as you a Gambian and you have your birthday certificate, ID card or previous voters' card or a village alkalo attestation, the law gives you that right to look for voters' card when the registration starts."