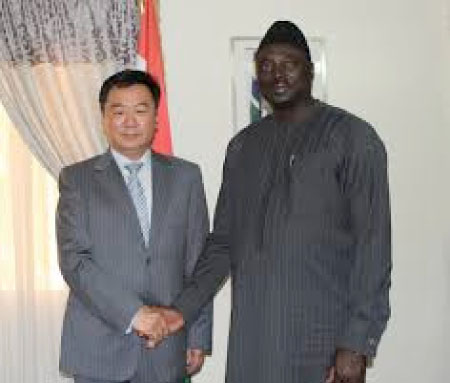 H.E. Ambassador Ma Jianchun and Foreign Minister Hon. Mamadou Tangara delivered warm remarks. Representatives of the Chinese community in The Gambia attended the event via virtual link.
The 2020 marks an eventful and challenging year because of COVID-19. Ambassador Ma remarked, under the strong leadership of the Communist Party of China and the Chinese government, and with tremendous sacrifice by 1.4 billion Chinese people united together, China has become the first major economy in the world to return to growth since the outbreak. And we are happy to see under the able leadership of H.E. President Adama Barrow, a lot of efforts and achievements has been made by the Gambian government and people in fighting the coronavirus. That is really commendable.
Referring to China-Gambia practical cooperation among many other areas, Ambassador Ma listed quite a lot of achievements despite challenges brought by COVID-19. Just to name a few, the China-aid Sir Dawda Kairaba Jawara International Conference Center was officially handed over to the Gambian government in January 2020. The URR roads and bridges are under construction with nearly 70% completed. Chinese agricultural experts have been carrying out the demonstration project in Sapu. And 28 Gambian students out of hundreds of competitive candidates are awarded the 2020 Chinese government scholarships.
Hon. Mamadou Tangara conveyed heartfelt congratulations on behalf of H.E. President Adama Barrow, the Gambian government and people on the 71st anniversary of the founding of P.R. China. He took the opportunity to reflect the bilateral win-win opportunities as well as the numerous mutual successes registered during the past year. Saying China has been a shining example of how to best tackle and conquer the perils of COVID-19 and reach helping hands to other countries, Hon. Tangara thanked the Chinese side for the timely and magnanimous donations of plentiful medical supplies, which has been instrumental in curbing the spread of COVID-19 in The Gambia. Hon. Tangara also extended his strong confidence and determination to work with China under the development framework defined by the Forum on China-Africa Cooperation (FOCAC) and continue to stand firm with the Chinese people, in respect to the one-China principle.