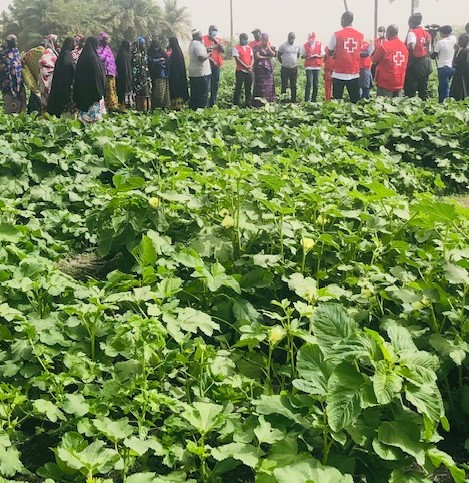 The Gambia Red Cross Society (GRCS), World Food Programme (WFP) and Ministry of Agriculture are currently implementing project and operation which include the covid-19 response activities (surveillance, RCCE, contact tracing, cash transfer or cash support to vulnerable families), cash for work, women garden projects, WASH sensitisation, trainings countrywide, migration projects, borehole drilling, construction and rehabilitation as well as rice distribution.
GRCS, WFP and Ministry of Agriculture supported 95 women gardens in NBR, CRR and URR with seeds and tools worth over seven million dalasis to strengthen women farmers' resilience against climate change and conflict in The Gambia. The project targets 20,000 women.
The projects and operations are being implemented by Red Cross volunteers under the leadership of GRCS branch executives and branch officers while others are contracted.
All the operations are coordinated and supervised at the national headquarters.
Subsequently, on Friday, the GRCS leadership commenced a five-day monitoring visit to assess progress of all the operations and engagements to get first-hand information of the progress made and challenges faced, which would help in decision making.
The monitoring mission also helped the team discuss with branches the strategies of the covid-19 vaccine.
The main objective of the monitoring was to strengthen regional partnership with communities, enhance response coordination as well as identify gaps in the implementation of project activities.
Sesawo Dampha, treasurer Noo Kunda Women Garden Association, said the assistance improved their lives and livelihood and therefore thanked GRCS and partners. She added that their challenge is shortage of water.
Mama B. Ceesay, president, Dasilameh Women Garden in CRR, described the assistance as timely and beneficial as covid-19 made life difficult for farmers.
Aja Mariama Sawaneh, president Medina One Women Garden Association, also in CRR said the seeds have increased their earnings as well as complemented their feeding. She said their challenges include a fence for their garden, a borehole, market to sell their products and a store for their products.
Abdoulie Fye, director of Programmes and Operations at The Gambia Red Cross Society (GRCS), said marketing the products should be everybody's responsibility, pointing out that other countries study the production of their country and if it could sustain them for a few months they close their market for importation to ensure local produce is sold.
"It is not about monopolising the market but trying to promote local production and ensuring the investment stays in the country," he argued.
Jato Sillah, president The Gambia Red Cross Society (GRCS), said they were impressed with what they saw and urged beneficiaries to continue the good work.
He also urged beneficiaries to take care of the tools. He thanked WFP and Ministry of Agriculture.