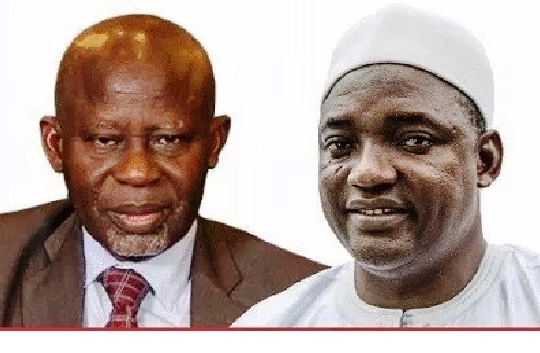 In a statement at a press conference on Tuesday along Kairaba Avenue, Mr. Darboe said the Gambian leader Barrow and the rest of the cabinet after receiving the document made no attempt whatsoever to show the significance of what would have been the new constitution of The Gambia.
 "Not once after receiving the draft had the President taken a moment to address the nation about the significance of this national priority, the UDP leader said.
Darboe went on to say, instead his cabinet and advisers publicly attacked the draft in ways that were unbecoming.
"No single member of the executive branch weighed in on the draft following its submission to the National Assembly."
It is widely speculated that the majority of the Members of the Parliament MPs voted against the bill which would have prevented President Barrow from contesting a third term to avail the incumbent the opportunity to contest the 2026 elections should he be re-elected in 2021.
A number of the National Assembly Members demanded clarifications on some of the clauses in the draft law, saying their decision to either support the bill or not would be based on the Justice minister's clarification.
However, Mr. Darboe like some sections of the public was particularly disappointed with the attorney general who tabled the bill before the lawmakers recently.
"It was especially disappointing to see the attorney general and minister of Justice, who tabled the Promulgation Bill before parliament, essentially abandons the legislation to the NAMs and project indifference to the passing of a bill he himself tabled at the National Assembly."
"His performance at the National Assembly and the conduct of the entire executive branch betrays the expressed aspirations of the overwhelming majority of the Gambian people who have taken the time and effort to shape a progressive and forward-looking Draft Constitution."
He called on the Civil Society Groups, the political parties and relevant stakeholders to demand answers to the rejection of the draft bill, saying that it does not represent the wishes and aspirations of the people.