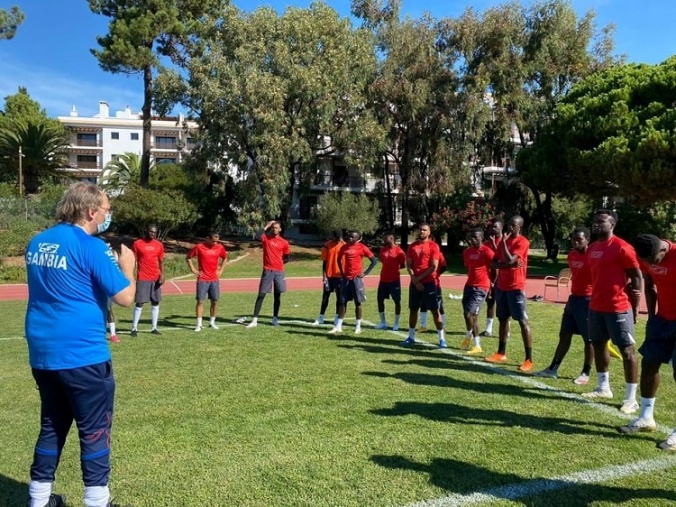 This development is necessitated by the Guinea Officials whose majority of players are confirmed to have contracted the Covid-19 virus while on camp in Portugal.
This information is being communicated to the Gambian officials by the Guinea Football Federation and had further informed FIFA and CAF about the development and thus formally called off the match that is being scheduled to take place on Tuesday 13th October 2020 at 5pm.
In fact, according to the Guinea Officials, out of the Nineteen players at camp, Five have been tested positive of the Covid-19 virus while another Five have sustained injuries in their game against Cape Verde and virtually been left with only nine players in the squad prompting their inability to observe any competitive match.
Nonetheless, we would like to state that the Gambia National team and officials at the training camp have all undergone the mandatory Covid-19 tests; the results of which are all negative. In this vein, the GFF President Lamin Kaba Bajo and Executive Committee members have applauded the management of the Scorpions training camp while in Portugal as professional and exceptional. The team officials have also hailed the camp as a success story under the leadership of the GFF 3rd Vice President Rtd Gen Lang Tombong Tamba who also doubles as Head of delegation with the assistance of GFF General Secretary Lamin M Jassey as Team Manager and GFF Head of Press and Publicity Sub Committee doubling as Media liaison during the camp in Algarve, Portugal. The team is credited for its swift dispositions in local arrangements starting from the Airport to Hotel accommodation without any hitches.
Being one of the most successful outings for the Scorpions in recent times, the GFF is pleased to further congratulate all stakeholders that have one way or the other make the trip a success but more so private citizens in the Media that have also followed the team from their various European destinations for coverage of their engagement during the camp period.
Furthermore, the training camp has availed the Coach the opportunity to test a handful of new players and also further cement the team. In this regard, the coach and the GFF leadership wish to thank the players in turning up in their numbers to answer to national call despite the current difficult health situation.
Source: GFF