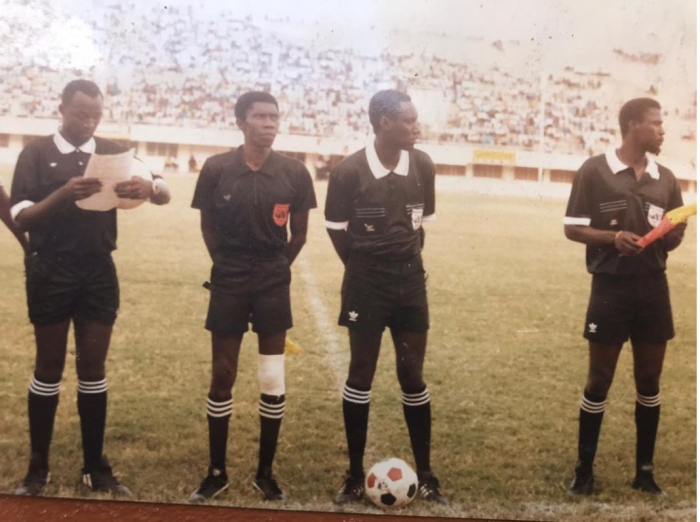 Having heard the news of the sad event that rocked yet again the football family, scores of sympathizers stormed the family house in  Sinchu Baliya where the late FIFA Referee was laid to rest.
Described as one of Gambia's illustrious Referees at his time, the late Bai Jobe entered into Refereeing in October 1986 at Gambia's domestic League " when teams were very few and Referees were not enough as well", GFF Exco Member Alagie Faye disclosed.
GFF President Lamin Kaba Bajo upon learning the demise of the retired Referee led a high powered delegation to the bereaved family to pay their respect  and to console them on the demise of the late late Bai Jobe.  "I am deeply sad that we are mourning another fallen member of the football family. Late Bai Jobe will be remembered for his love and unalloyed passion in football who has devoted his time for the growth and development of Gambian Referees". Mr Bajo further described the late Jobe as a "truly professional with outstanding abilities and qualities through hard work, dedication and most importantly his undivided love and due commitment to Refereeing"
A former Colleague and good friend of the late Jobe said his strong work ethic, tough talking and capacity to surpass others made him stand out amongst the few at the time. Alagie Faye a Retired FIFA Referee also described late Gunjur born as a devoted muslim and "love his family at heart".
As a former Goal keeper, late Bai Jobe trialed for White Phantoms before moving to Kwame Football Club in Sere Kunda. A huge and strong man at post, the late Jobe was rarely scored against at close range due to his fiercely statute at goal. He later joined Refereeing to add up the few men in black at the Local League.
The former Municipal Engineer only performed two seasons of domestic football in The Gambia where he would later received the FIFA Referee insignia. " This is because he was one of the best Referees who understood and interprets the Laws of the game accordingly and was good at match management", Retired Referee Alagie Faye disclosed. He had matches in Morocco, Mauritania, Guinea Bissau, Ivory Coast etc been in the company of former colleagues Badou Jassey, Alagie Faye, Malick Sillah, Modou Sowe, Lamin Camara etc.
Rest In Peace Uncle Bai Jobe
Source: GFF