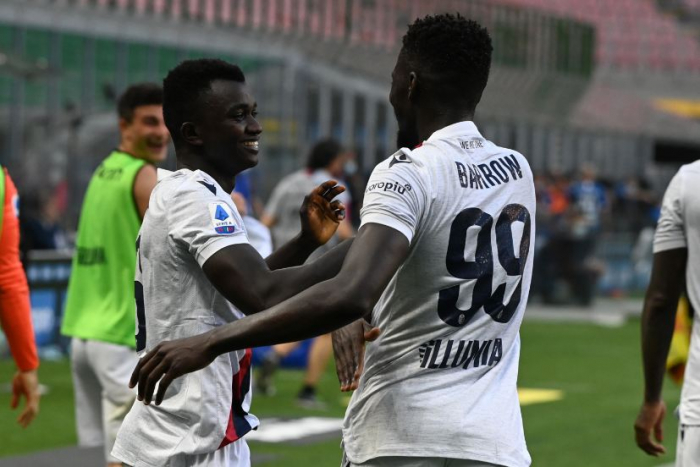 The Scorpions coach believes that both Musa Juwara and Musa Barrow can be part of a generation that qualifies The Gambia for their first World Cup appearance.
Juwara and Barrow made international headlines when they both scored in Bologna's come-from-behind victory over Serie A title-hopefuls Inter Milan.
That victory made an unlikely impact for the two players from a nation firmly entrenched outside the top 150 in the FIFA world rankings.
18-year-old Musa Juwara's debut Serie A goal was particularly notable considering the player's remarkable rise to the top.
The Tujereng-born, whose journey is emblematic of several young Gambian players, arrived in Italy only four years ago, having been orphaned in his homeland and travelling as an unaccompanied minor to Sicily on a migrant boat from North Africa.
"You need to be very strong to cope with this situation, to leave home, to travel to Libya, to travel to Italy by boat; you need to be very strong mentally for that," Saintfiet told ESPN. "I would not advise other players to do it, as there are easier ways to get to Europe, but I have huge respect for the way he went.
"We have a few boys who did the same, like Ebrima Darboe at AS Roma, like Kalifa Manneh at Catania, who had the same route, and it's absolutely fantastic that they can now play professional football at this level in such a strong league as Italy.
"I don't know if they became stronger because of this trip, or whether they made the trip because they were strong already, but it shows their determination to succeed."
"I met him in January when I was in Italy to talk to both [Juwara and Barrow], and he gave me a very mature impression," Saintfiet said.
"He's a very motivated guy and has a good background in his youth, when he was already wanted by Juventus.
"He was good in the Primavera squad of Chievo Verona last year; made his Serie A debut at 17, and with these signs it's clear that the boy has a lot of talent."
"Naturally you always need a little bit of luck, and you need the opportunity to score the goal, but his movement, his speed, and his skills are his quality, and he also has the mental determination to make it to the top," Saintfiet said.
"I'm not surprised, when I look at the quality of these boys.
"Barrow played seven or eight national team matches and made his debut with me; Juwara was on the list for the March qualifiers which were postponed due to COVID-19, so we know both are very talented.
"It was fantastic to see them performing on this level against such an opponent."
Juwara and Barrow headline a growing list of Gambian players in European leagues, with defender Omar Colley of Sampdoria also impressing admirers in Serie A, and Saintfiet can also draw upon talent from Switzerland, Scandinavia and Eastern Europe beyond.
Some are dual-nationals — born in European countries to parents who emigrated — while others, like Barrow, were scouted by agents or scouts earlier in their career and were moved out of Gambia.
Boosted by the increasing prominence of Gambian players across Europe, Saintfiet believes the Scorpions could be on the brink of history.
The Gambia is currently leading their qualifying group for the coming Africa Cup of Nations tournament — now postponed to January 2022 due to the coronavirus pandemic — having taken four points from their opening two matches, and the Belgian coach is confident the current crop could be the first Gambians to reach a major tournament.
"When I arrived in Gambia, we were 172nd in the FIFA world rankings, now we're 159," the 47-year-old said.
"It's difficult to climb up in the rankings, and probably Gambia has to be two-time world champions before we can get into the top 100.