By Nelson Manneh
Photo: Amadou Jallow
Amadou Jallow is a young Gambian planning to change the narrative of bread baking in The Gambia. Anecdotally, Jallow said many bakeries in the country are owned and operated by non-Gambians. It is against this backdrop that he intends to venture into the industry to change that trend.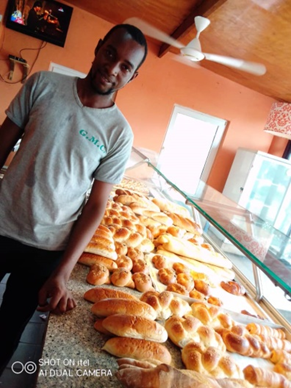 Like many senior secondary school graduates in The Gambia, Jallow pursued a diploma program at the Gambia College school of Nursing and Public Health. After two years, he diverted his field of studies to pursue bread baking; something he said was born out of passion.
Jallow acquired numerous skills and/or requirements in bread baking (different types) through training both locally and internationally. One of these trainings was in 2019, when he left the Gambia for Senegal to acquire more skills in bread baking.
– Advertisement –
Upon his return to Gambia, Jallow is now planning to establish a bakery and training center where he will be training young people on bread baking. He has vast experience baking "tapalapa", "senfur", baguette, pastry and snack, having worked for more than five foreign bakeries in the Gambia.
"In the Gambia, bread baking is left in the hands of foreigners and I want to change the narrative. That is why I decided to pick up the skill as my everlasting carrier," he said.
Fast forwarded, Jallow has formulated a project named One Loaf which he believes will make an impact on baking in The Gambia. His interest in the industry is motivated by a sequence of learning and apprenticeship experiences he undertook with local and modern bakeries in Serrekunda and the surrounding areas.
"Project One Loaf is willing to work with partners and institutions to spread the knowledge of baking to every interested Gambian youth," he said.
Commonly called T. Jallow, he said bread is an important staple food in the Gambia, especially within Serrekunda and the surrounding communities. It is consumed in almost every home on a daily basis; yet the production of bread is entirely left as a domain for foreigners, he observed.
"Most if not all bakeries in the Greater Banjul area are owned by foreigners. The distribution of bread is also exclusively monopolized by foreigners and the consumers of the final product are the local Gambian people," he said.
Photo: Amadou Jallow
Mr. Jallow said he wants to start up a bakery project at Bundung Borehole within Kanifing Municipality- a location he foresee will be attractive tomstudents, market women, taxi drivers and all categories of pedestrians.
He also said the project is strategically located at a highway- from the main Bundung Serrekunda Highway next to Nusrat High School, and accessible to vehicles and motorists, therefore highly identifiable.
"The area is densely populated with nearly 100,000 inhabitants surrounded by a market, four schools and a clinic, all within 150m radius," he said.
To start the project, Jallow said he needs to establish a bakery in a rent-free compound to produce both local and modern bread. He said the purpose of the bakery is to generate income as well as train young people between the ages of 15 to 30 years, to learn the fundamentals of basic baking.
The aspiring bakery owner is seeking assistance from all and sundry in order to start his project. The capital expenditure for the project is estimated at two hundred thousand dalasi (D200, 000.00).
Sustainability Plans
Starting a project might be a hurdle for Jallow, but he has laid out plans to ensure its sustainability. He said the proceeds of the sale of the baked products will be ploughed back into the production process, thereby sustaining the project.
This method will enable the project to maintain itself with quarterly audit of the finances and materials of the project. Since the project has an apprentice training component, the availability of apprentices will save the project of the labour supply that would otherwise be hired by the project.
Meanwhile, Jallow is calling on institutions, individuals and Non-Governmental Organisations to come to his aid in order for him to achieve his dreams.
Any Samaritan who wants to assist Mr. Jallow can reach him on the following numbers: 3672088 or 3053734.
Proposed Budget for the project
| | | | |
| --- | --- | --- | --- |
| | Equipment | Unit | Cost in GMD |
| 1 | Construction of a simple Bakery | 1 | 100,000.00 |
| 2 | Local Ovum | 1 | 45,000.00 |
| 3 | Ingredients and Sanitation Equipment | 1 Set | 25, 000.00 |
| 4 | Bakery materials | | 30,000.00 |
| | Total | | 200,000.00 |