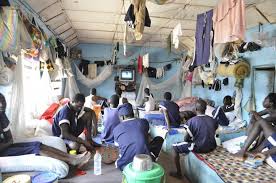 A source who is familiar with matter and spoke to our reporter on condition of anonymity confirmed the development.
According to our source, over 60 people were recently affected by the virus, although it did not happen at once.
"They were taken into isolation. However, I can tell you that 22 of them have been discharged at once and they're currently taken back to the prison after multiple tests conducted on them resulted negative." Our source clarified that aside from the 22 people who were discharged, more and more people are being discharged on a daily basis with covid-19.
Most of the cases, our source added, are people that are admitted at the prison recently. These are people that are reported to have come with the virus in the prison. However, this doesn't necessarily mean that this number of confirmed cases happened at once."
Our reporter has been reliably informed that authorities at the prison are doing tremendous good job in ensuring that the virus doesn't spread in the premises.
"In fact, I can tell you that they have taken steps in ensuring that whoever is to be admitted at the prison, the relevant authorities escorting those individuals must produce a certificate indicating that various test have been conducted on those individuals and it all prove negative."
"I can happily tell you that things are now getting normal at the prison and quite a number of people that were affected are now returning to the prison."