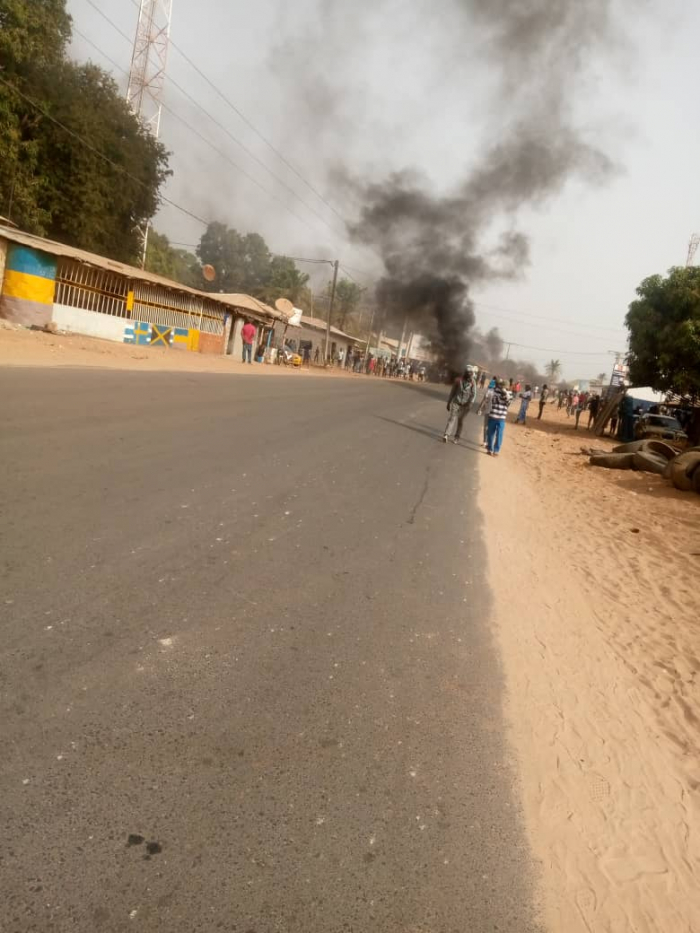 The alleged killer is reported to be a staff of the Nassim Fishmeal Factory, a Mauritanian owned fish meal factory in the area.
The 32-year-old victim Gabriel Ceesay, according to eyewitness was stabbed to death on Sunday night after he attempted to capture an alleged thief – an unknown Senegalese fisherman who entered his bedroom to steal.
The situation angered the youths of Sanyang on Monday who decided to attack both the community police station and the fishmeal factory setting them on fire and also burning car tyres on the main highway before the intervention of the riot police, and Armed Forces.
Balla Fofana, a native of Sanyang, in an interview with The Point said the murder of the 32-year-old boy has triggered community outrage. This, he said had led to the burning of the police station and the fishmeal factory.
He alleged that the establishment of the fishmeal factory has caused the influx of many foreign fishermen from different countries in their community. According to him, this has resulted in a series of theft cases and other criminal activities.
"We are really angered by the killing of our brother by a Senegalese, who unlawfully entered into his room to steal.
"And let me tell you that this was not the first time such criminal activities and stabbing are carried out by Senegalese in the community. So this has to immediately stop or else there will be a serious attack against these criminals," he said.
The spokesperson of the Gambia Police Force, Superintendent Lamin Njie, confirmed to Reuters the arrest and detention of the alleged killer, who is currently being detained at the Brikama Police Station. He added that the police were ready to maintain peace and security in the country.
"We have received the information which is quite unfortunate to our national security and I can tell you that our men on the ground are doing everything possible to maintain peace and order."
"The culprit who is a Senegalese national is right now under detention and assisting the police in their investigations," he stated.
The victim according to the police was later taken to the Edward Francis Small Teaching Hospital for a postmortem.