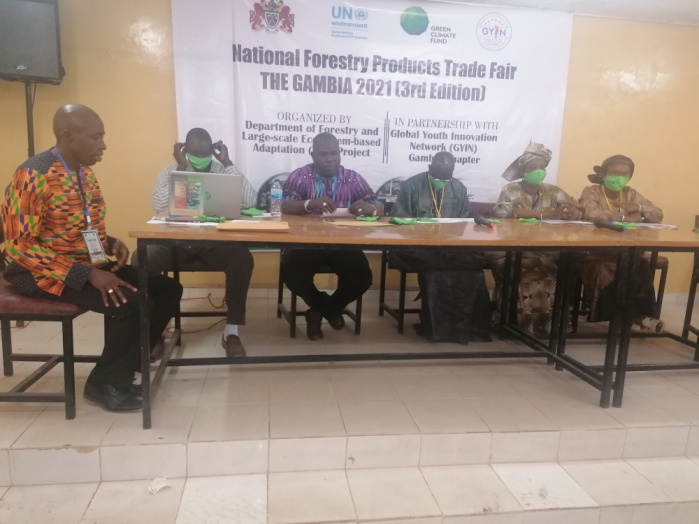 The opening ceremony of the three-day trade fair was held at Wellingara Horticultural Garden on Saturday 10 April 2021.
The trade fair is organised to showcase first products in order to create markets and thus increase income, improve the life and livelihoods of rural communities.
The event drew participants from different communities in five administrative regions namely: Upper River Region, Central River Region, North Bank Region, Lower River Region and West Coast Region who came with their forest products for display.
During the event, the Large-Scale Eco- system-Based Adaptation Project extended benevolence by distributing bee keeping equipment to communities to derive more forest products, while protecting the forest at the same time.
Speaking at the opening, Cherno Gaye, head of Participatory Forestry Management at the Department of Forestry, dilated on the purpose of the trade fair, saying it's designed for participants to display their forest products that seek to benefit them economically.
Mr. Gaye, who spoke about the vitality of forest and forest products, also pointed out the need to protect the forest for posterity. "I am very much delighted about what has been achieved through the support of government and its partners," he told the gathering, while hailing EBA for empowering communities through forestry.
Basainey Jammeh, on behalf of the EBA project manager, said one of the components of the project is to combat climate change and empower community forests. "So one of the purposes of the project is to enforce reforestation and this project has started since 2018," he reminded the gathering.
"So it is designed to empower communities to strengthen their forests so that they can derive benefit without destroying the forests," Mr. Jammeh added.
Sheriffo Bojang, the president of Farmers Platform, dilated on the importance of trees, saying community forests should be highly protected.
Mr. Bojang compared his school days with now, saying the difference is high in terms of forest management. He added that it's all a result of people's attitude towards the forests.