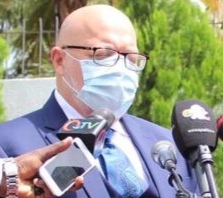 The UK envoy, one of the most respected British diplomats is well-known for his passionate support of human rights issues including right to freedom of expression and assembly; women's rights and the abolition of the death penalty.  
Belgrove is also recognised for supporting peaceful elections and transfer of power as well as resolution of electoral disputes. Thus, Senegambians acknowledged that they are thrilled to welcome the UK envoy.  
The Point was also informed that Belgrove is ''highly interested in supporting press freedoms, the civil societies and local communities…valued religious harmony as well as peace and stability…including respecting the views of others including marginalised and minority groups.''    
Consequently, he was awarded an OBE in 2010 for his "vigorous diplomatic efforts" including his work in Afghanistan.  
Europe based West African investor Kwame Afrehi, responding to this correspondent noted: ''We hope that British investors with African roots as well as others in Europe will now find it easier to invest in The Gambia…unlike during the reign of Yahya Jammeh when he was conducting and directing the entire commerce and scaring away everyone else.''  
Reacting, Imam Jaiteh, Gambian religious leader residing in London, also noted: ''We are happy to welcome an excellent person like Mr. Belgrove and hopefully we can cooperate closely and work hand in glove in further promoting and strengthening the cultural and bilateral ties between the two countries including the promotion of religious freedom, empowerment of women and macro finance…''  
Accordingly, in his Twitter account, Belgrove noted that he had ''the honour to present my credentials to H. E. President Barrow… I look forward to working with his government and the people of The Gambia on our shared objectives.''  
The former British Ambassador to Liberia and a UK diplomat to several other countries around the world, is also cherished for encouraging girls to ''participate and strive without restriction.''