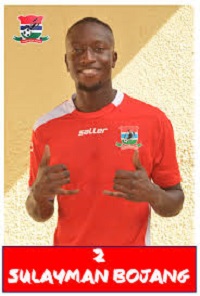 Born in Oslo-Norway on 3rd September 1997, Bojang is one of the fastest players in the Scorpions lineup with a special talent of playing both as left and right fullbacks.
The 23-year-old started playing football at the infant stage and was just for fun with friends in the neighborhood. He could be seen constantly out for many hours to play, because of his passion for what later was to become his biggest industry for money. He grew up to the addiction of the much loved sport and quickly metamorphosed into a multi talented player with speed becoming an automatic choice for Coach Tom Saintfiet, a dream he thought of coming through.
The 23-year-old began his club carrier at Skeid, Norway in 2016 where he spent only one season until 2017, where he moved to Sarpsborg 08 in 2018. He made a move to Kongsviger for a season loan in 2019 and would later come back to his former team until recent (Sarpsborg 08).
Bojang had a thorny season at Skeid but eventually got his first contract with the first team after many years with good training and focus. At some point, he wasn't having enough game time, mostly on the bench but always tells himself "the only means to gain regular game time was to keep fighting in every training session and use every opportunity wisely and with utmost seriousness." However, that was short live when his Coach quickly noticed the potential and hidden talent in the lad. He encouraged the Gambia international to believe in himself for he would become a future National asset.
Soon afterwards in 2017, Bojang became a regular and got a trusted spot in most of the games for his side. A great feeling that any player would have, he was in perfect shape and form having played 15 games in the second tier before his current team (Sarpsborg 08) would purchase him, a giant step further towards greater success.
He spent one year on loan to Kongsvinger in the Norwegian Second Division to gain more playing time, because the circumstances in Sarpsborg 08 were not favorable to cope hence his lack of playing time. However, the enthusiastic player is now enjoying his career, playing every game in his Norwegian top league ( Sarpsborg 08).
As if his dream was coming to fruition, he was scouted for the scorpions while at Kongsvinger and got called up to National team Duty for The Gambia. He certainly didn't hesitate to answer and proudly respond to the invitation of Tom Saintfiet to join the Scorpions team.
He was delighted to be involved for his first call up to national duty joined with his elder brother, Jibril Bojang at the Scorpions training camp in Marrakech, Morocco. Sulayman manifested to be a committed player who impressed all and sundry in his first two games against Guinea and Morocco. He played his second game four days later at the ten days Marrakech camping. He was lauded a stand out player by the Moroccan media that rated him high against their Chelsea's new signing Hakim Ziyech, and Sofiane Boufal.
Coach Tom Saintfiet hails Bojang as a really good crosser of the ball and a genuine professional with great attitude both on and off the pitch, who gets along with all the players. He has a record of six (6) games for the Scorpions.
Bojang is currently part of the 40 players in the provisional squad selected by Head Coach Tom Saintfiet expected to travel to Algarve, South of Portugal in October for the international FIFA match friendlies ahead of the AFCON Qualifier games set to resume in November.
Sulayman expressed delight to be selected in the squad, and aspires to be part of the players to record the first ever Gambia National Team's qualification to the TOTAL Africa Cup of Nations Cameroon 2022.
Source: GFF