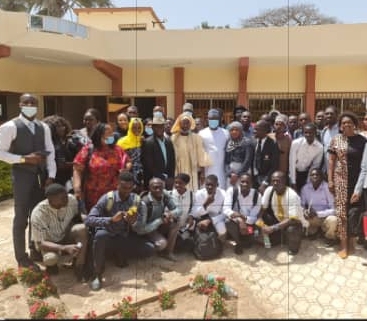 At the invitation of the institute's management, the SIS boss elaborated on the concept/objective of the state pursuing its domestic policy abroad as well as talked about among other things determinants of foreign policy, key among which include the following; global environment, domestic policy pursued abroad
Mr. Sowe also reiterated on International Relations theories vis-a-vis Realism, Unilateralism and Multilateralism. The lecture which lasted four more than an hour also availed the MDI students to ask critical questions in relations to the topic discussed. Mr. Sowe took his time to answer the questions to the students' satisfaction. 
Also discussed was the role of the Ministry of Foreign Affairs, Diplomatic missions abroad (High Commissions/Embassies) and how they pursue diplomacy; how economic, political, security and defence policy objectives of a state fit into international relations pursued through diplomacy.
Mr. Sowe further dwelled on the needs for the students to endeavour to be current on national, regional and international issues and global efforts on trade, wars, human rights, pandemics, climate change and terrorism since they are and will remain on the forefront of international relations and a determinant in diplomatic relations between states.     
The interactive session was captivating and fascinating to the extent that lecturers and students alike not only encouraged by Mr. Sowe to return for more of these lectures, but he kindly considers being a permanent guest lecturer at MDI.
In response, he promised to return and have lectures on Peace, Conflict Prevention and Resolution in the not too distant future.
The SIS officials who attended the lecture attested that such kind of lectures fit into their ongoing reforms, restructuring and repositioning process at the SIS including outreach activities aimed at winning the confidence of the citizenry in line with the new SIS's vision and mission.
Lamin Camara, a student said: "The lesson we learned today can be passed on for generations. In fact, it's like he is not only teaching us as current students of MDI pursuing International Relations and Diplomacy, but all of the people we will teach and interact with in future."
"The perception that I have for the agency before has drastically changed. Seriously, I was thinking that the agency had only half-educated people which of course are far from that now."
Sowe obtained Masters in Diplomacy (Distinction)from the University of Malta, MA, International Politics and Security Studies from the Bradford University, U.K and BA, Development Studies and English at the St. Mary's University, Canada, in 1999 as well Conflict Prevention, Management & Resolution UK, in 2001
DG Sowe is also an expert in International Security/Relations/Affairs, Foreign Policy, Diplomacy, National/Regional Security/Peace Architectures, National Security Policy/Management/Analysis, Regional /International Organization, UN, AU, ECOWAS etc Natural Resources, Conflict Prevention, Management, Resolution, Negotiations, Mediation, Representation, Natural Resources Management among others.