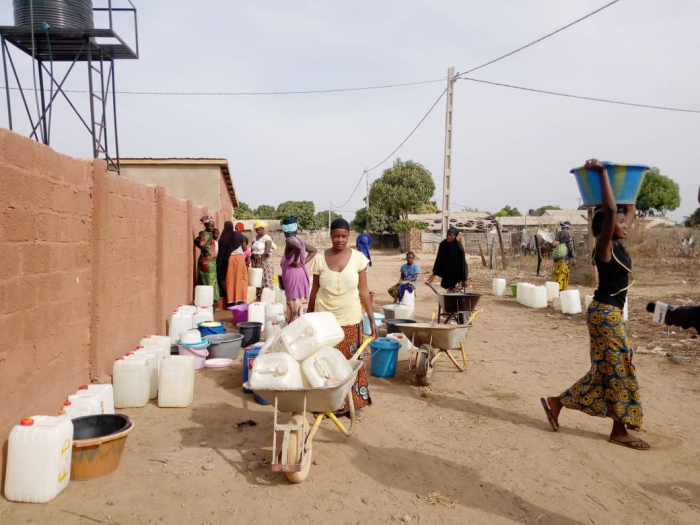 The area has been without clean and potable water for the past seven months, according to dwellers.
Inhabitants of the area, mostly women are forced sometimes to go up to Jah Oil Petrol Station – a distance of almost two kilometres – with donkey carts to get clean and potable drinking water.
Our reporter who is currently on a tour with President Adama Barrow visited the community to monitor the situation.
A lady who spoke to The Point anonymously described the water shortage as sad, while urging the government to come to their aid.
"We are suffering so much. We are behind the government today and forever, but water shortage is among the top challenges we are encountering with. There are some compounds in the area that already have taps but water is not coming. In fact, even at our compounds we have tap, but for the past 7 months, we have not had water. At some points, if the water comes, we will only have one gallon. In fact, that has even stopped."
"The borehole we are getting the water from was drilled by someone. We, the women decided to charge each other to contribute at least 10 dalasis in order to buy cash power for the owner of the borehole."
"We usually wake up as early as 6 a.m. to get water. The compound owner closes the borehole at 12 p.m. In fact, still now some women are going up to Jah Oil to fetch water. Yesterday, I found the tap closed and I had to go up to Jah Oil to fetch water. We are having the water free at Jah Oil, but if you are to take donkey carts, you need to pay each gallon at 10 dalasis. At times I used to take 15 gallons of twenty liters which cost me up to D150.
The matter, she added, has been reported to the National Water and Electricity Company (NAWEC); however, nothing has been done about it.
She revealed that almost 35 compounds are all depending on one borehole which opens for 7 hours only.
"NAWEC staff told us that because we do open our taps then we will get bills from them. This is confusing so much. How can you pay bills when you are not getting water?"
Oumie Jallow, who also spoke to our reporter, expressed similar sentiment, while urging the government, philanthropists and samaritans to come to their aid.
Ramatoulie Jallow said: "The water shortage has really given us difficulties. In fact, it's not even safe to wake up as early as 6 a.m. to get water as a woman."