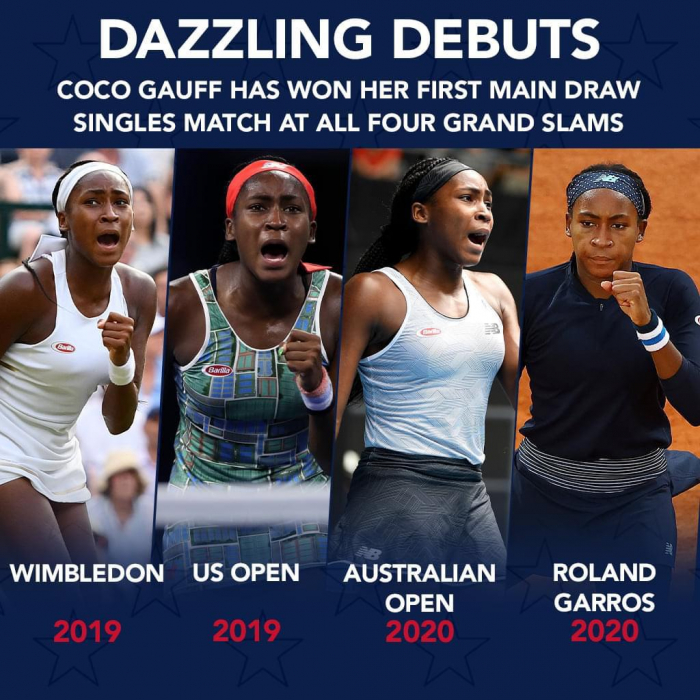 She went on to win two more matches at the tournament before losing to eventual champion Simona Halep from Romania in the fourth round.
Gauff became the youngest woman to qualify for the Wimbledon's main draw since the inception of the professional era in 1968, and the youngest American to enter the top 50 of the WTA ranking since 1990. Coco received a wild card entry into the main draw at the all England club. Each of her match show a record viewership across various television channels with live broadcast in countries such as the United Kingdom and the United States.
Like duck to water, Gauff became a global sensation, earning recognitions from some of the world's most powerful people, including Michelle Obama, a fan since Coco's stunning Wimbledon performance. Coco met the former first lady upon her return to the United States, and the two Americans opted for a selfie that went viral.
Gauff would in the same year reach the third round of the US Open, becoming the youngest player to do so since Anna Kournikova's magical run to the fourth round of the women's singles at the Flushing Meadows in 1996.
Gauff, now 16, reached the fourth round of the 2020 Australian open. She secured straight sets 7-6, 6-3, win over childhood idol and American compatriot Venus Williams for the second time, and made her way through the second round at Melbourne, eventually setting up a third round clash against two-time Grand Slam champion Naomi Osaka. Gauff defeated then reigning Australian Open champion Naomi to reach the round of sixteen in thrilling fashion.
Gauff is making her maiden appearance at the main draw of the Roland Garros in Paris, achieving a major victory over world no. 9 Johanna Konta in the first round to set up a second round clash against Italy's Martina Trevisan on Wednesday.
The 26-year-old Italian has a career-high WTA singles ranking of world no. 144 achieved, on 26 August 2017, and a career-high doubles ranking of world no. 288, achieved, on 22 May 2017.
Gauff is the overwhelming favorite going into the second round fixtures against her Italian opponent, considering her remarkable success on the big stage.
Gauff is the second youngest WTA title holder which she achieved after winning the 2019 Linz Open singles tournament in Austria. With two women's doubles titles under her belt, Gauff is fast becoming sports most promising prospect. Her rapid rise to stardom has been the best tennis story since 2019.
Gauff joins her American compatriot Serena Williams, in the second round of the Roland Garros. Serena, considered one of tennis' most successful players, is seeking record-tying 24th Grand Slam title, one fewer than the current holder Margaret Court from Australian.