By Hatab Nyang
The West Africa Peche Fish Factory (WAPFF) located adjacent to the Kombo Coastal Highway in Batokunku in the Kombo South District of the West Coast Region, is not a Fishmeal Factory as previously alleged.
The owner of the said factory Dr. Antoni De Siano, said his establishment has no chimney, fish powder or fish oil and it does not process pelagic fishes like bonga as it is done at other fishmeal factories in Sanyang, Gunjur and Kartong.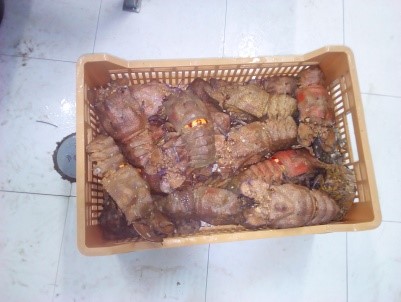 Dr. De Siano said what is processed at "this factory" are rock and common lobsters, calamari, octopus, shrimps, kettle fish and snappers; that they process their products according to hygienic standards and put them in nylon bags before their final exportation to Europe as frozen products. According to Dr. Antoni De Siano, they export fresh fish to Europe and not fish powder or fish oil.
When questioned by this reporter on the alleged dumping of their waste in a garden situated between Tanji and Batokunku and built by former president Yaya Jammeh, Dr. De Siano categorically denied the allegations; that they use waste water from the factory for compost mix to grow vegetables in his garden and allow other gardeners to collect this free of charge to fertilize their lands.
– Advertisement –
On the bad smell that emanates from the factory, Dr. De Siano said this was before they built underground septic tanks for the excess waste water; that later the Alkalo of Batokunku gave them a place where they dug underground septic tanks, as verified by this reporter.
Ebou Jarju, Supervisor of WAPFF who took this reporter on a conducted tour of the premises of the factory, said they put their waste in two thousand liter containers for onward transportation to the managers' garden or to those gardeners who may need it.
Manlafi Bojang, the man in charge of Dr. De Siano's garden denied allegations that WAPFF dumps waste water in their garden. He said the garden produces vegetables and uses rotten fish water as fertilizer, which is good for the plants.